You never saw it coming, but the next Cancun is going to be in Puerto Peñasco, Mexico. That's about 4 hours southwest of Tucson on the eastern edge of the Sea of Cortés, and consequently it is crawling with Arizonans. Heather and I were there for the first weekend of Spring Break 2006. If you're looking for an "authentic" Mexican experience (it's only authentic if our stereotyped expectations are met, of course), you won't find it in Puerto Peñasco, aka "Rocky Point." It's well on its way to Cancun's sprawling resort-like complex of highrise condominiums and tacky poolside cabana bars. The students from my school love it. It turns out, Puerto Peñasco isn't the only place getting an overhaul in the name of American tourism. The marinas, ports, and resort towns around Baja California and western Mexico are slated for major development to draw you and me and our greenbacks into the Mexican economy (it needs all the help it can get). The project, La Escalera Nautica (Nautical Ladder), is named for its succession of nautical stops that climb the coastline (apparently renamed the Sea of Cortés Project more recently). With their eyes on the filthy rich Americans with big yachts just to the north, the project's designers seek to create a string of stopovers separated by about a day's sailing distance, and of course exploit as much of their natural environment as possible in the name of economic expansion. If you're looking to invest, I hear they're still a few hundred million short. Heather and I stayed in the top floor of this deluxe beachside condominium thanks to our dear friend Lisa and the speculative eye of her mother who owns a place there.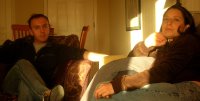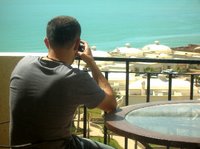 From this vantagepoint we could see the bathing beauties and some dolphins just off-shore. The beaches were dotted with gringos and a constant stream of local merchants hawking hats, sunglasses, kites, toys, and even pottery. Despite the Spring Break bikinis and bare skin, it was remarkably chilly and breezy. I left my bikini in the room.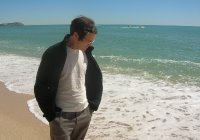 And here we have the future of Mexican tourism!!!
Haiti!